Denae Wagner is a University of Minnesota College of Veterinary Medicine graduate. She completed a Masters degree in Preventive Veterinary Medicine in 2001 and a residency in Food Animal Reproduction and Herd/Health in 2002, both at the University of California Davis.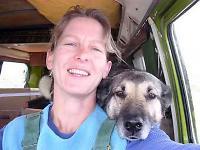 In her work for the Koret Shelter Medicine Program, Dr. Wagner has helped shelters from Florida to Vancouver. Her contributions have ranged from Capacity for Care (C4C) calculations and population health to full facility design consultations — she and her team assisted architects in the program for the Placer County's new Animal Services Center in Auburn, CA, to insure best shelter medicine practices were incorporated in the design.
Recently Dr. Wagner and the KSMP team guided the Tracy Animal Shelter through Phase 1 of a 2-phase animal shelter building project, making dramatic improvements and meeting animal care needs that prioritized animal health given limited staffing.
Her interest in animal housing design and specifically improving shelter cat housing was inspired by conjoined cages seen on shelter visits. Dr. Wagner began fashioning 8" PVC pipe into "pass-throughs" or portals that safely and cleanly coupled pairs of existing cat cages, transforming small cramped housing into spiffy roomier double-compartment condos. By allowing shelter cats to eliminate away from their food and sleeping area, and creating an efficient way to spot-clean without having to handle or remove the cat from the housing unit, the condos increase cats' physical and mental well-being (and make cleaning faster and easier for shelter staff).
As the desire for the handmade portal increased Dr. Wagner oversaw the design and manufacture of the Cat Portal for the Koret Shelter Medicine Program. Over 4,000 of her hand-made and manufactured portals have been installed in animal shelters throughout North America and beyond.
Dr. Wagner received the CFHS/FSCAA Innovation Award in 2016 for her work improving the lives of animals in Canadian shelters. Her current interests include shelter design and the effects of housing on shelter animal health, infectious disease prevention and control, and shelter data management.
In 2019, she led the first-ever online Facility Design Bootcamp, a month-long project that helped four shelters prepare for new shelter construction and redesign of existing facilities.
Selected Publications:
Wagner, D.C., Hurley, K.F., Stavisky, J.H. (2018). "Shelter housing for cats: Principles of design for health, welfare and rehoming." Journal of Feline Medicine and Surgery 20(7), 635-642
Wagner, D.C., Hurley, K.F., Stavisky, J.H. (2018). "Shelter housing for cats: Practical aspects of design and construction, and adaptation of existing accommodation." Journal of Feline Medicine and Surgery 20(7), 643-652
Wagner, D.C., Kass, P.H., Hurley, K.F. (2018). "Cage size, movement in and out of housing during daily care, and other environmental and population health risk factors for feline upper respiratory disease in nine North American animal shelters." PLoS ONE 13(1): e0190140.
Karsten, C.L., Wagner, D.C., Kass, P.H., Hurley, K.F. (2017). "An observational study of the relationship between Capacity for Care as an animal shelter management model and cat health, adoption and death in three animal shelters." The Veterinary Journal 227: 15-22.
A. Tanaka, D. Wagner, P. Kass, K. Hurley. (2012) "Associations among weight loss, stress and upper respiratory tract infection in shelter cats." JAVMA, Vol 240, No. 5, March 1, 2012, pg 570- 576.
Burns RE, Wagner DC, Leutenegger CM, Pesavento PA. (2011) "Histologic and molecular correlation in shelter cats with acute upper respiratory infection." J Clin Microbiol. 2011 Jul;49(7):2454-60. doi: 10.1128/JCM.00187-11. Epub 2011 May 11.
Denae Wagner, Sandra Newbury, Philip Kass, Kate Hurley. (2014) "Elimination Behavior of Shelter Dogs Housed in Double Compartment Kennels." PLOS ONE 5(14): DOI: 10.1371/journal.pone.0096254