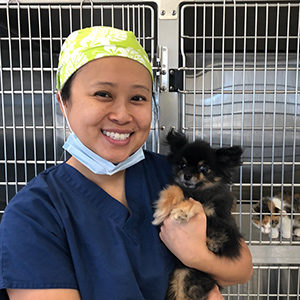 Dr. Jennifer Kwan is an alumna of UC Davis, where she earned a BS degree in Animal Science and a DVM degree in Small Animal Medicine.  Throughout her academic career, she was always passionate about combining shelter medicine and animal behavior medicine.  During veterinary school, she was honored with a scholarship from the Morris Animal Foundation.  Her research assessed dog behavior, owner attachment, and reasons for relinquishment of dogs to shelters.  
 
Since graduating, Dr. Kwan has worked in a variety of shelters throughout her veterinary career-giving her a unique perspective of diverse sheltering models.  She also has a passion for surgery, enjoying HQHVSN to help control pet overpopulation.  Working hands-on with shelter animals brings her the most joy in the veterinary field with the constant career goal of enhancing the welfare of shelter animals.  
 
Her animal companions include dogs, cats, and rabbits.  In her spare time, she enjoys training animals, drawing, watching musicals, dining with friends, and spending time with her nieces.
 
Dr. Kwan is honored and excited to be on the KSMP team!