Lisa joined the Koret Shelter Medicine team as the operations manager in the Fall of 2016, after six years at the SF SPCA, where she became obsessed with shelter medicine. Having grown up on a ranch in Corralitos, CA, surrounded by cats and chickens, she always knew she wanted to work with animals, but took a roundabout way to get here.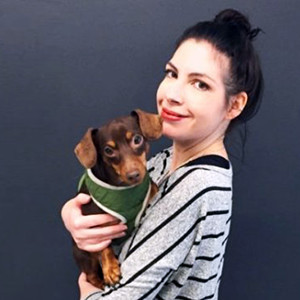 While working as a veterinary technician and pursuing a masters in library science, a side project involving the plight of whales changed her course completely. She packed 3 suitcases and her 2 rescue rats, and went to Washington DC to work for Greenpeace. During her years as a professional activist and organizer, she realized how much she missed working with companion animals. After volunteering at a few rescues, she became determined to apply her background in organizing and research to shelter medicine. And so she packed up again — this time, 7 bags and 2 cats — and headed back home to California.
Her hobbies include reading, travelling to foreign libraries and distilleries, sailing, volunteering at various vaccine and spay/neuter clinics, and dreaming of her future donkey and black cat retirement community.