Guidebook: Ringworm
Chapter 5: Preventing Ringworm in a Shelter Setting
There is currently no vaccine available that is protective against ringworm.
The best protection, as with many infectious conditions, is to practice excellent husbandry. All cats should be screened with a Wood's lamp receive a careful visual examination at intake and prior to being placed in foster homes.
Remember that some cases will not be detected with the Wood's lamp. For areas with high levels of ringworm, all kittens or litters should be housed separately in an easy to disinfect area for at least two weeks and observed before being allowed the run of a house (recalling that the incubation period is 4 days to 4 weeks, so this quarantine will catch some but not all cases).
Identify Affected Animals
Carefully inspect all incoming animals and all animals being considered for foster care or group housing. Look for any areas of hair loss, scabbing, or crusting, especially focal areas affecting the face, ears, feet or tail.
Perform Wood's lamp examination of all cats on intake as well as anyone with suspicious lesions. Use correct technique and recognize the limitations of this exam (false negatives are uncommon, but possible).
Direct microscopic examination (trichogram) of hairs from suspicious lesions. Practice technique and recognize limitations (false negatives possible).
Fungal culture and microscopic identification in all cases where definitive diagnosis is required.
Visual Exam

Wood's Exam

Ringworm infection?

No Lesions on Skin or Fur

Negative

No

No Lesions on Skin or Fur

Positive

Suspect. Perform Trichogram.

If trichogram positive, cat has ringworm infection; if negative, hold for culture.

Dip, isolate, and clean last.

Lesions on Skin or Fur Present

Negative

Suspect. Hold for culture.

Dip, isolate, and clean last.

Lesions on Skin or Fur Present

Positive

Yes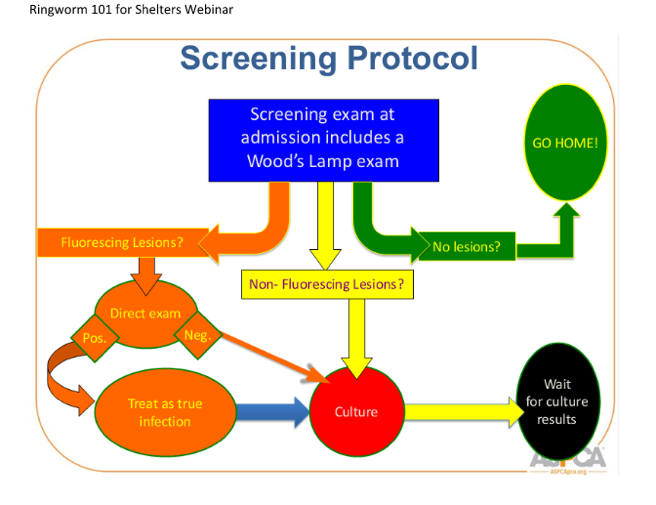 Segregate Affected Animals From the General Population
Isolate affected or suspected animals and institute cleaning protocols to prevent further spreading. It is not necessary to completely isolate suspect or infected animals in a separate building as long as appropriate environmental cleaning is initiated.
All surfaces with which ringworm suspect animals have had contact should be immediately cleaned, then disinfected. This includes floors, carriers, transport vehicles and countertops.
Clearly identify suspect animals (i.e. post a sign on their cage).
Housing affected and suspected animals individually in cages that can be easily cleaned will allow easier identification of cure but in many cases the benefits of socialization warrant co-housing of kittens or bonded pairs during the treatment period. Large litters should be split into multiple housing cohorts (2-3 per cage) after weaning.
In foster care, house in large dog crate or easily cleaned room such as bathroom until at least two weeks of effective topical treatment has been completed.
Ideally, house ringworm suspects separately from other animals. If that is not possible, at least keep them separate from highest risk groups (kittens, pregnant moms, cats with URI).
Wear protective clothing when working in a ringworm quarantine room or working with affected animals (long sleeved gown, gloves, shoe covers or boots used only for that purpose). Discard or launder protective clothing daily.
Disinfect cages and all surfaces in the room twice weekly with diluted bleach (1:32) on a clean surface or Accel® (1:16). Spot cleaning should be performed on a daily basis to minimize disruption and reduce stress and for the cats.
Dishes and other washable items can be run through a dishwasher provided water temperature reaches at least 110o F (43.3o C).
Bedding should be washed when soiled or on days when topical treatment is applied. Do not overfill the washing machine as this reduces the machine's ability to mechanically remove ringworm spores. Ringworm laundry should be washed separately from other laundry. Dry ringworm laundry separately and clean lint filters after every use. Bedding or toys that cannot be washed should be discarded.
Following housing of a ringworm animal, thoroughly clean and disinfect the cage before using the cage for another animal. For more information, refer to Environmental Decontamination.
Carefully clean all areas that cannot be disinfected using a damp mop or electrostatic cleaner such as a Swiffer® followed by vacuuming. Discard the vacuum cleaner bag.
Considerations for Mixing Cats and Kittens
Shelter staff and foster parents are tasked with caring for and adopting out animals who are healthy and well-socialized pets in their future adoptive homes. We want growing animals to be able to experience the world and we want adult animals to be able to express their normal behaviors and have interactions that would enrich their lives. It is important to balance these mental/emotional needs with medical health needs, including preventing the spread of infectious disease. Kittens, in particular, are highly susceptible to infectious disease and special consideration must be given to when it is or is not reasonable to mix them together; in addition, there are some important details to keep in mind when mixing unrelated cats of any age.
Limitations on capacity - staff, time, and/or number of foster homes or amount of cage space - can pose challenges to providing the care necessary to move animals efficiently and safely to the point of adoption. These challenges may lead some shelters to make a choice to mix unrelated cats or kittens together just in order to find more "space". However, that choice often leads to more challenges rather than fewer if the choices of which cats to mix are not balanced against ability to screen for and recognize signs of infectious disease. For more information, refer to Considerations for Mixing Cats and Kittens in the Guide to Raising Underage Kittens.