Update: We received requests for more than double the number of portals we had, so we turned to the animal-loving community to help us make up the difference. Watch this video to see Dr. Kate Hurley announce the winners of the contest!
You can also watch the video on YouTube.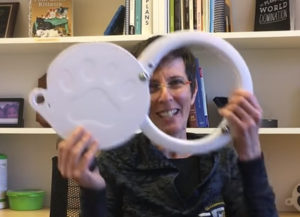 Dr. Kate Hurley likes to think big. She knows that portalized double-compartment housing makes shelter animals happier and healthier while making their care easier for shelter staff. So she asks, How can we make it so every shelter in the world could offer portalized cages to the animals in their care?
The answer: the Portal Pay It Forward Fund, and the Portal It Forward campaign. Using the money from her Maddie's Hero Award, Dr. Hurley will purchase up to 30 portals for each of ten shelters chosen by lottery in March, 2018. Read more…