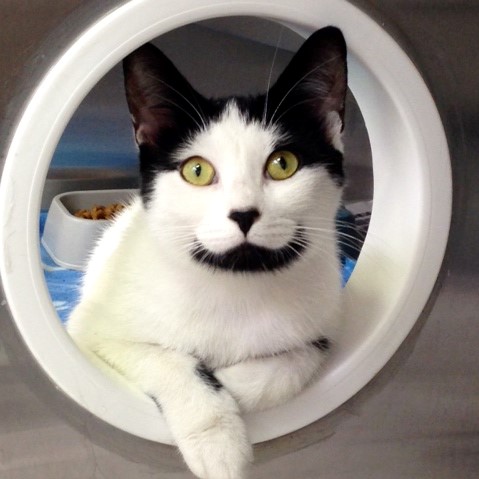 To work within their C4C, a sheltering organization must determine and sustain their ideal population. In doing so, they will enhance animal health and welfare and minimize length of stay (LOS) while maintaining or improving on their goals for adoption or other positive outcomes.
"It's one of the best things we've ever done here! It had the biggest impact we have seen in such a short time with the best results." — Kitchener-Waterloo Humane Society
Our services include an analysis of historical and current data; review of shelter programs and operations; examination of kennel/cage size, type, set up, number and living environment; and evaluation of management practices as they relate to infectious disease control and animal welfare.
The process involves discussions with key personnel regarding current practices and future goals; analysis of population data from computer generated reports; reviews of facility layouts; a site visit if desired (and schedules permit); recommendations via phone/web conference and/or in person; and follow-up phone or email assistance as needed.
"It is working so well I am completely blown away. The response from the public with regard to the lack of crowding has been very positive, and our volunteer retention for cat volunteers has improved with the improved housing conditions for the cats. Capacity for Care is a win win win program I wish we would have started years ago!" – Laura, Shelter Manager, Placer SPCA
Depending on the complexity of the project and level of involvement desired, the estimate will range from ~$4,000 – $35,000. For a complete description of our consultation service or more information, please contact sheltermedicine@ucdavis.edu.
---
Capacity for Care Bootcamp
Don't have thousands of dollars to spend but still want to learn how to improve your shelter operations? Are you a Million Cat Challenge shelter? If so, maybe Capacity for Care Bootcamp is right for you.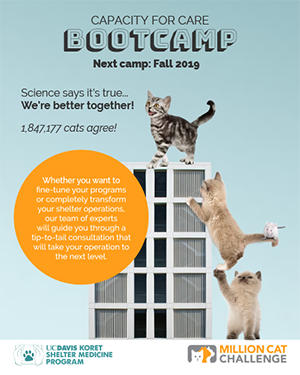 We've rolled 17 years' experience pioneering the field of shelter medicine; all the aha! moments gleaned from the Million Cat Challenge; all the trials and triumphs earned from hundreds of shelter consultations, research projects, previous bootcamps, and published studies; all our hard knocks and lucky finds; AND our team of experts into one six-week online training. You'll watch videos, do homework, consult with us and other bootcampers, and make changes that will make your shelter better.
I want to express to you how much this bootcamp has reinvigorated me in my work. I have been at Marin Humane for 15 years, and I feel like it is year one. We have already made some major changes and many more are in the works. Thank you all for giving us this opportunity. You are not only helping animals, but you have helped my staff. I am already seeing a different outlook.

— Keri Fennell, Marin Humane
It'll take time, effort, and a willingness to try new things. It won't be easy, but it'll be worth it.
We do not have any bootcamps scheduled at this time. Please email sheltermedicine@ucdavis.edu if you would like to be notified when the next bootcamp is scheduled.
---
C4C Resources
Read more about Capacity for Care in our Resource Library: