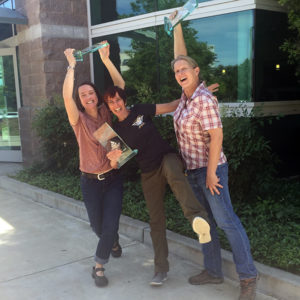 Doctors Kate Hurley, Cindy Karsten, and Denae Wagner of the UC Davis Koret Shelter Medicine Program have received the Canadian Federation of Humane Societies' Animal Welfare Innovation and Leadership Award for their "outstanding leadership in the creation of a program that is revolutionizing the cat overpopulation crisis and saving millions of lives – Capacity For Care (C4C)." They received the award at the opening ceremony of the 2016 CFHS National Animal Welfare Conference.
In an email to the KSMP team announcing the award, the CFHS added, "Your passion, vision and commitment to reversing the cat crisis in Canada has led to revolutionary change. You have provided countless volunteer hours, in-depth consultations and hands-on expertise to bring this program to Canada."
Over the first two years, the KSMP team led the pilot C4C program at four Canadian shelters: Guelph Humane Society, Kitchener-Waterloo Humane Society, Pei Humane Society, and the Montreal SPCA. Cat euthanasia decreased by 69% in just one year at Guelph, and all four of the original shelters in the pilot program saw marked improvements in cat welfare, staff morale, and community support.
Building on that success, Edmonton Humane Society and Calgary Humane Society joined the three-year pilot program in the summer of 2016.
"We learned as much from them as they did from us," says Dr. Karsten. "We're honored by this award, and we share it with the many hard-working staff members and shelter leaders who made the pilot program such a huge success."
[UPDATED: September, 2016]
About the KSMP
The UC Davis Koret Shelter Medicine Program is a privately funded organization working to develop and spread a welfare-centric, life-saving approach to management of dogs and cats in animal shelters; focusing on prevention and grounded in science. The KSMP is helping to create a world in which shelters are a place where animals are safe from suffering and needless euthanasia, staff has deep satisfaction in their work, and community members experience respect for all animals.
About the CFHS
The Canadian Federation of Humane Societies is the only national organization representing humane societies and SPCAs in Canada. The CFHS brings together organizations that work with and care for animals to promote respect and humane treatment toward all animals in Canada.
Since it was founded in 1957, the CFHS has earned its solid reputation and enviable credibility as the go-to national voice on animal welfare issues for industry, media, government, non-governmental organizations, and the public. The federation works collaboratively and cooperatively with key stakeholders based on the premise that it can have a greater impact creating positive change by being a part of the process instead of being apart from it.
Read more at: http://www.cfhs.ca/about_us