Koret Shelter Medicine Program Director Dr. Kate Hurley has received a Maddie's Hero Award in the category of Big Picture Thinking for her pioneering work with the Million Cat Challenge, crystallizing and popularizing data-driven policies and practices that help shelters increase their lifesaving capacity.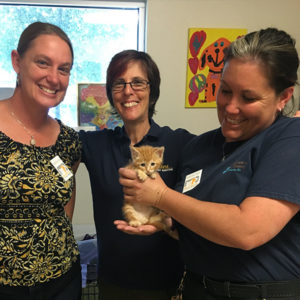 The award, now in its second year, honors the foremost innovators in the field of animal welfare and includes a $10,000 grant to the recipients' organizations. Maddie's FundTM made the surprise announcement today, while celebrating the 30th birthday of Maddie, the dog who inspired Dave and Cheryl Duffield to create the foundation.
Among the 14 additional beneficiaries of this year's award are Dr. Julie Levy, who co-founded the Million Cat Challenge with Dr. Hurley in 2014, and former KSMP faculty member Dr. Sandra Newbury.
When asked to comment on the award, Dr. Hurley told the Davis Enterprise, "What I love most about working with shelters is that it gives all of us a chance to be heroes. Whether it's by walking a shelter dog, fostering a litter of kittens, or adopting from a shelter, anyone can help save a life. What a great way to honor Maddie and all the animals who've made our world a better place!"
About the KSMP
The UC Davis Koret Shelter Medicine Program is a privately funded organization working to develop and spread a welfare-centric, life-saving approach to management of dogs and cats in animal shelters; focusing on prevention and grounded in science. The KSMP is helping to create a world in which shelters are a place where animals are safe from suffering and needless euthanasia, staff has deep satisfaction in their work, and community members experience respect for all animals.
About Maddie's Fund
Maddie's Fund® is a family foundation created in 1994 by Workday® co-founder Dave Duffield and his wife, Cheryl, who have endowed the Foundation with more than $300 million. Since then, the Foundation has awarded more than $187.8 million in grants toward increased community lifesaving, shelter medicine education, and pet adoptions across the U.S. The Duffields named Maddie's Fund after their Miniature Schnauzer Maddie, who always made them laugh and gave them much joy. Maddie was with Dave and Cheryl for ten years and continues to inspire them today.
Maddie's Fund is the fulfillment of a promise to an inspirational dog, investing its resources to create a no-kill nation where every dog and cat is guaranteed a healthy home or habitat. #ThanksToMaddie.