With an undergraduate degree in Business/Economics from UCLA and a DVM from UC Davis, Dr. Cindi Delany became the first ever Shelter Veterinarian at Sacramento County Animal Care and Regulation in California under the newly created UC Davis Shelter Medicine Program in 2001. She acquired expertise in developing and implementing medical and population management protocols with a focus on improving operations to maximize efficiency and increase positive outcomes for the animals.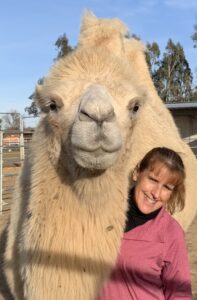 During her time at this high-volume shelter (intake of 24,000 animals a year) and later based out of Yolo County Animal Services, Dr. Delany developed particular expertise in animal shelter population management, animal behavior/training and environmental enrichment, community cat program creation/implementation, emergency care, neonatal/pediatric medicine, soft tissue surgery, high volume/high quality and pediatric spay neuter, foster program creation and management, live release program implementation, the use of technology to collect vital information on shelter performance, and the use of statistics to analyze and improve outcomes for animals and overall shelter operations.
Dr. Delany's focus in KSMP animal shelter consultations and industry speaking is on programs targeted to improve animal outcomes, provide environmental enrichment for shelter animals, explore shelter animal behavior and training, improve shelter data collection and analysis, and maximize operational efficiencies in a limited resource environment.
When the COVID-19 outbreak made access to timely, accurate information about animal and public safety more important than ever, Dr. Delany compressed several months of planned work into just a few weeks of intense web development to produce sheltermedportal.com, a learning platform and social hub. The Shelter Med Portal combines material created by the KSMP team with the best information from animal welfare organizations and academic institutions regarding animal shelter best practices during a pandemic…and after. Within six months of its launch the site gained more than one thousand members.  Dr. Delany is now taking her passion and expertise for sharing information and learnings about maximizing animal shelter success to the next level as the Director of the KSMP Online Learning Program.
Dr. Delany has a special interest in animal behavior and positive reinforcement training. She practices clicker training with all of her animals – including her 4 dogs, 1 cat, 2 Bactrian Camels, 3 miniature donkeys, and 17.2 hand, 1,800 lb Percheron draft horse. Dr. Delany is a self-professed computer nerd who loves working with high tech toys, software, apps and other computer related devices.  You can email her at cddelany@ucdavis.edu.
Education
BA, Business/Economics, UCLA
DVM, UC Davis School of Veterinary Medicine
Professional Distinctions
First Shelter Veterinarian ever employed by Sacramento County Animal Care and Regulation in Sacramento, CA.
Founded California Animal Shelter Friends, a non-profit that focuses on rescuing sick, injured, and newborn or underage animals from shelters and veterinary practices where they have been abandoned.
As Supervising Shelter Veterinarian for Yolo County Animal Services, was instrumental in helping that facility improve their live release rate from 50% to 90% in less than 2 years.