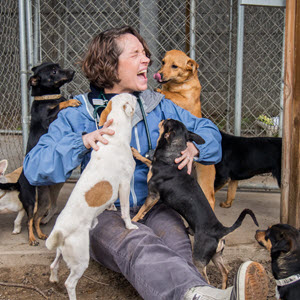 Throughout her time with the KSMP, Dr. Cindy Karsten has helped to identify and implement best practice protocols and capacity for care models at shelters across the United States and Canada. She has participated in numerous shelter consultations at both rural and urban animal care facilities, where she has assertively identified far-reaching solutions in the face of limited shelter resources.
Dr. Karsten became board certified in Shelter Medicine Practice in November, 2017. Her main areas of interest include population management, infectious disease control, intake diversion/safety net programs, and providing affordable, accessible veterinary care in all communities.
Dr. Karsten serves as a board member of and volunteers with the non-profits Mercer Veterinary Clinic for Pets of the Homeless, and Compassion Without Borders. She leads and conducts wellness/spay-neuter clinics with veterinary students regularly in Covelo, CA (an underserved community without a veterinarian), and volunteers at numerous community clinics around California.
Education
DVM, University of Wisconsin School of Veterinary Medicine
Shelter medicine internship, College of Veterinary Medicine and Biomedical Sciences at Colorado State University
Shelter medicine residency, University of California – Davis
Professional Highlights
Honored presenter

HSUS Expo
CA Animal Care Conference
New Mexico Humane Conference
Texas Federation of Animal Control Facilities Annual Conference
UC Davis Winter Conference
ARF's Business of Saving Lives
Colorado Animal Welfare Conference
New England Federation of Humane Societies Annual Training Conference
Texas Unites for Animals Conference
Canadian Federated Humane Societies annual welfare conference
Australia's Getting to Zero (G2Z) Summit

Keynote speaker, the national 2014 PetPoint Summit Conference in Chicago
Awards
CFHS/FSCAA Innovation Award (2016)
Selected Publications
Karsten, C.L., Wagner, D.C., Kass, P.H., Hurley, K.F. (2017). "An observational study of the relationship between Capacity for Care as an animal shelter management model and cat health, adoption and death in three animal shelters." The Veterinary Journal 227: 15-22.
CL Karsten (2017). Sanitation and Disinfection. Infectious Disease Management in Animal Shelters. Second edition. L. Miller, K. Hurley and S. Janeczko.