Dr. Stacy Kraus's first introduction to animal shelters occurred when she started teaching basic obedience to shelter dogs, making them better candidates for adoption. She quickly realized she wanted to do more for shelter animals and decided the best way to achieve that goal was to attend veterinary school and focus on shelter medicine. Dr. Kraus graduated from Kansas State University College of Veterinary Medicine in 2011. During her fourth year of training, she participated in numerous externships at shelters across the United States to expand her knowledge of shelter medicine.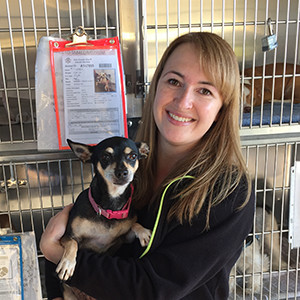 Following graduation, she worked at Saving Lives Spay/Neuter Clinic, a high-volume, high-quality spay/neuter clinic associated with the Wake County SPCA in Raleigh, NC. This position afforded her the opportunity to focus on her clinical technique by performing thousands of surgeries on public and SPCA animals. She subsequently worked at two large, open intake municipal animal shelters in North Carolina focusing on population management, medicine, and surgery. Dr. Kraus also worked for a private clinic providing low cost veterinary care to rural, underserved communities. She operated a mobile spay/neuter clinic across central North Carolina and enjoyed the opportunity to meet and interact with members of the community who did not have access to regular veterinary care.
In 2013, Dr. Kraus relocated to Albuquerque, New Mexico to serve as a shelter veterinarian for the City of Albuquerque's Animal Welfare Department (AWD). She worked at AWD's two facilities with an annual intake of ~17,000 animals. There, she worked in a clinic that provided spay/neuter services to the public in addition to caring for the shelter population. She also worked closely with the program manager and rescue coordinator to help transfer thousands of animals out of the municipal shelter.
Dr. Kraus joined the Koret Shelter Medicine Program at UC Davis in the spring of 2016. She is responsible for supervising the clinical training of 4th year veterinary students during their shelter medicine rotation at Yolo County Animal Services. She enjoys working with the students to provide guidance and training using high-volume, high-quality approaches to spay/neuter surgeries in a shelter setting. She finds the improvement in the students' skills to be highly rewarding, knowing that future generations of veterinarians are receiving focused training on important techniques for shelter medicine.
In her spare time, Dr. Kraus enjoys camping, hiking, and spending time with her family and rescued Papillon.