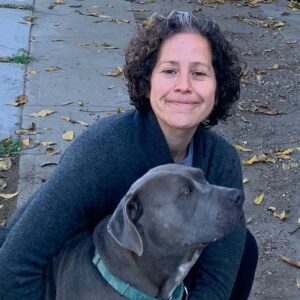 Allison Cardona joined the Koret Shelter Medicine Program in January 2022 as California State Director. She is thrilled to serve on this esteemed team and make an impact for animals and the people who care for them. Prior to this, Allison worked for nearly five years as deputy director for the Los Angeles County Department of Animal Care and Control. In that role, she oversaw two full-service animal care centers, a communications center, public relations, adoption partners, behavior and enrichment, and volunteer programs.
Allison also served as liaison to the County's Homeless Initiative ensuring that people experiencing homelessness have options and resources for their pets as well as participating in the County's Anti-racism, Diversity and Inclusion Initiative, assisting with the implementation of an anti-racist policy agenda. Before that, Allison spent fourteen years as a senior program director at the American Society for the Prevention of Cruelty to Animals (ASPCA) in a variety of departments including adoptions, spay/neuter, disaster response, large-scale cruelty operations, animal hoarding cases, cruelty intervention programs and community engagement. 
She serves on the Leadership Council and volunteers on-site at the Downtown Women's Center, a nonprofit organization dedicated to providing trauma-informed care to unhoused women in Los Angeles. She received a bachelor's degree in Public Affairs from Empire State College and is a graduate of the USC Price School of Public Policy Executive Leadership Development Program and Southern Utah University Certificate in Executive Animal Services. The proud daughter of Colombian immigrants, Allison is deeply committed to racial justice and equity work. She lives in Los Angeles with her partner, Yvonne and beloved dog, Emma.
Publications
Arluke A., Patronek G., Lockwood R., Cardona A. (2017) Animal Hoarding. In: Maher J., Pierpoint H., Beirne P. (eds) The Palgrave International Handbook of Animal Abuse Studies. Palgrave Macmillan, London.