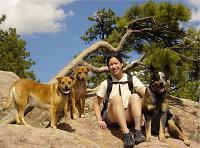 Dr. Cristie Kamiya was born and raised in Hawaii, but has spent most of her adult life living in Colorado, and since completing the shelter medicine residency in 2013 has relocated to the San Francisco Bay Area.  She is currently Chief of Shelter Medicine at Humane Society Silicon Valley, where she oversees Shelter and Medical Operations.
Dr. Kamiya graduated from Colorado State University, College of Business with a Master of Business Administration degree in 1999, and then went on to also complete a Doctor of Veterinary Medicine degree from Colorado State University, College of Veterinary Medicine and Biomedical Sciences in 2005.
Dr. Kamiya's first encounter with the shelter world occurred at the age of nine when her family adopted a mixed breed puppy from the Hawaiian Humane Society.  A love of animals and a childhood dream of becoming an animal doctor evolved over the years into a passion for advocating on behalf of homeless and lost pets.  Prior to the shelter medicine residency, she has worked as a shelter veterinarian in humane societies, municipal shelters, and rescues in the Denver-Boulder areas of Colorado, and the greater Phoenix metro area of Arizona.
Dr. Kamiya's main interests are in infectious disease, shelter management, surgery, and animal cruelty investigation.  She enjoys traveling and working with organizations that provide veterinary support for under-served areas in the U.S. and internationally.  In her free time, Dr. Kamiya enjoys fostering underage kittens, and spending time outdoors with her adopted shelter dogs.