There's a new, different, better experience coming to the Maddie's® Million Pet Challenge Learniverse, and it's designed with your feedback, your busy schedules, and your big goals in mind. The Spring 2023 Shelter Summit and Fast Tracks will give you the opportunity to learn by doing, create the change you want to see, and go further together with your colleagues and the support of expert coaches.
Sometimes positive change happens in leaps, and sometimes it happens in strategic steps. The Spring 2023 Shelter Summit on March 14, 2023, will help you identify opportunities for both, no matter your shelter size or budget. Gather with our expert coaches and your peers in a half-day online summit to explore topics that meet your most urgent challenges and get a bird's-eye view of where your shelter could go next.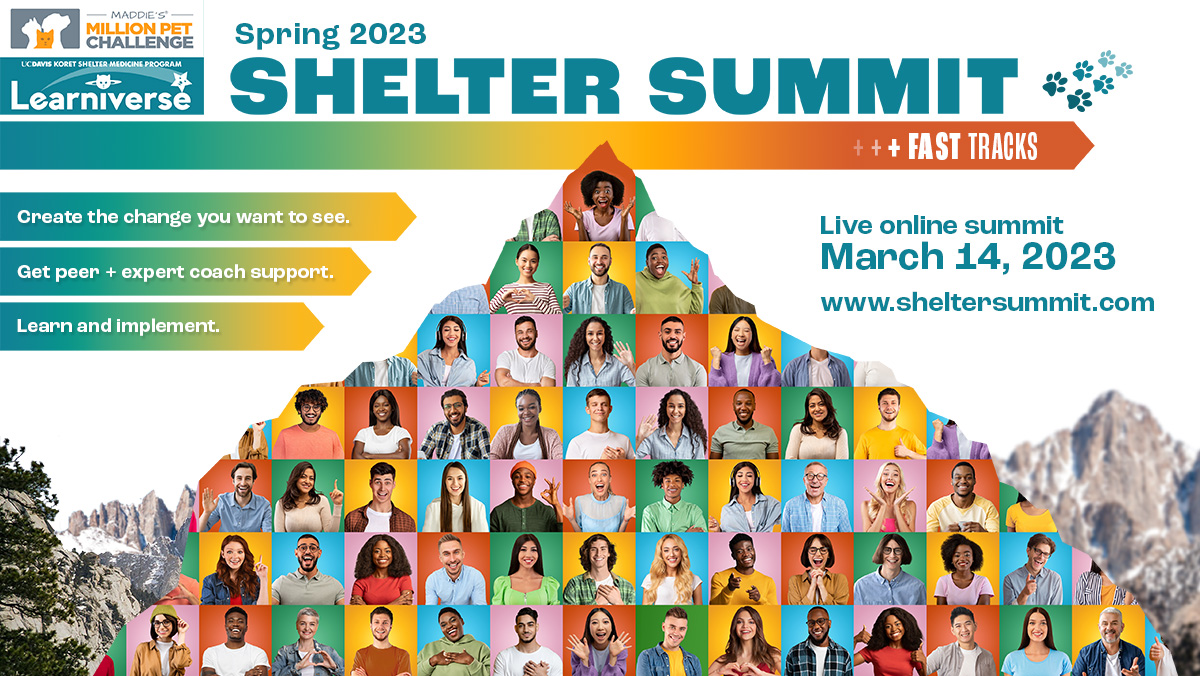 Register for the Summit now to maximize your resources and set yourself and your shelter up to thrive during kitten season and beyond. The Shelter Summit will be recorded in case you can't attend live and has been pre-approved for CAWA and NACA CE credit; RACE approval is pending.
Fast Tracks
Ready to make change happen? After the Summit, choose one or more Fast Tracks and start doing—with support from your peers and subject matter experts from the KSMP and beyond!
Coordinated Care: The Secret Sauce to Ensuring Animals and People Get the Right Care in the Right Place
Are You Staying Within Your Capacity for Care (You Might Be Surprised!)
Hidden Gems: How to Make Your Shelter Software Help You Work Smarter, Not Harder
Proven Barrier-Busting Strategies that Send Animals Home
Feeling Overwhelmed with Making Outcome Decisions? We Can Help!
Sprint from idea to implementation and ongoing improvement in eight weeks by connecting with coaches and fellow participants in four live sessions alternating with four optional office hours.
More info at www.sheltersummit.com