Go from wishlist to implementation in less than 6 weeks!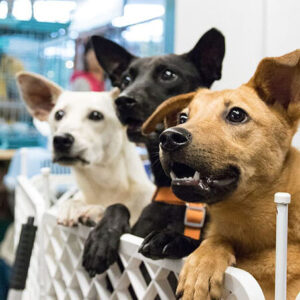 This Bootcamp's goal is to help your shelter team review current best practices and innovations in the Behavior, Training and Enrichment (BTE) space, then assess your own operations and programs and begin implementing changes to level up what you are doing and how you are doing it.
This immersive and coach-guided course will do more than help you identify new ways to improve animal welfare and wellness. It will also get you started making those improvements in less than 2 months (and your coaches will continue to support you on an ongoing basis once Bootcamp is over).

In this course, Cynthia Delany, DVM, KPA-CPT, our Director of Online Learning for Maddie's® Million Pet Challenge and other leading behavior, training, enrichment experts will guide you through:
Mitigating fear, anxiety, and stress in the shelter
Humane handling
Staff and volunteer training
Welfare maximizing housing, enrichment programs, and playgroups
Pathway planning, animal assessment, and decision-making
Training and behavior modification to improve outcomes
Post-adoption support
Evaluating your own facilities and identifying gaps in programming, policy, and practice.
Securing funding
And thanks to a generous grant from the Wiederhold Foundation to develop this program and #ThanksToMaddie and the Maddie's® Million Pet Challenge, you can participate free of charge!
Seats are limited for each cohort. Read more about it and sign up at our ShelterMedPortal. The deadline to sign up for the next cohort is February 18, 2022.