Every year, the Humane Society of the US puts together their Animal Care Expo, the largest educational conference for animal shelter professionals in the world. This month, as in years past, shelter veterinarians from the Koret Shelter Medicine Program were there, teaching, learning, and helping move the field forward.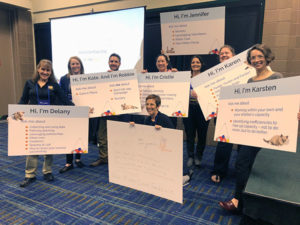 Drs. Karsten, Delany, and Hurley convened a well-attended Kitten Summit, at which they brought together innovators from Arizona Humane, Portland's Cat Adoption Team, the Humane Society of Silicon Valley, and San Diego Humane to share information about all things kitten.
Meanwhile in the Exhibit Hall, the Million Cat Challenge's jumbo-sized Cat Housing booth provoked, informed, and amused over a thousand Expo-goers. Visitors to the booth got to spend a minute—if they could stand it—in the Bad Cat Housing Challenge, a cramped, foul-smelling space with the sound of barking dogs and the unappetizing sight of food next to a toilet.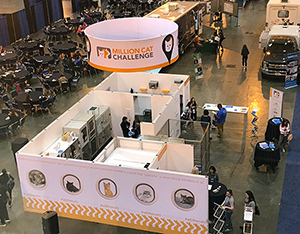 Visitors emerged from there to walk through several rooms displaying good individual and group housing, where they could read about housing myths and realities and talk with MCC co-founders Dr. Kate Hurley and Dr. Julie Levy, among others.
Booth visitors were also treated to displays of enriching Do-It-Yourself housing accessories created by the KSMP's own Dr. Denae Wagner. Dr. Wagner not only showed off her DIY skills, she also debuted her DIY Animal Shelter Housing Accessories booklet available for free at the exhibit and downloadable from sheltermedicine.com. The booklet and DIY section of the website make instructions for creating the accessories available to all.