SUFFERING, EUTHANASIA INCREASE AS ANIMAL SHELTERS STRUGGLE TO COPE WITH STATEWIDE VETERINARY SHORTAGE
Hundreds of thousands of animals impacted, and euthanasia expected to rise without immediate action
Davis, February 1, 2023—More than 344,000 California shelter animals do not have adequate access to veterinary care staff, according to a recent survey that highlights how veterinarian shortages are profoundly impacting California's most vulnerable animals. As a result, shelters are becoming overcrowded, illness is rising, and adoptable animals are being euthanized.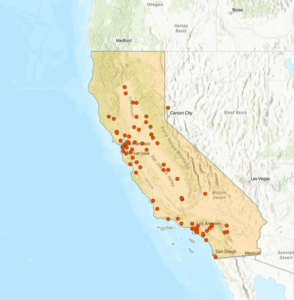 Of the shelters that have budgeted positions for veterinarians and veterinary nurses, more than 50% of those positions remain vacant due to a lack of candidates, leaving 25% of shelters unable to provide essential veterinary care. The survey also noted that 64% of shelters cannot provide care for basic medical needs such as treating common viral infection parvovirus, performing diagnostics like bloodwork and X-rays, and performing surgeries, including spay/neuter. Furthermore, 68% cannot consistently provide complete care to treat conditions commonly seen in shelters, such as fractures, eye injuries, and dental problems. 
"This survey lays bare the tremendous hardships facing California's most vulnerable pets and adds even more urgency to addressing our state's debilitating veterinary shortage," said Dr. Jennifer Scarlett, CEO of the SF SPCA. "Inequitable access to veterinary care is the greatest threat to companion-animal welfare of our generation. Unless we take immediate steps to mitigate the suffering through a combination of policy and support of veterinary professionals, these issues will only worsen, and animals will be the real victims."
According to the survey, veterinary-care shortages have already led to an increase in the euthanasia of healthy and treatable animals at more than a third of California shelters. Moreover, 40% of animal shelters cannot provide consistent access to spay/neuter services, which are required in California before animals can be adopted.
Many shelters provide critical support to their communities through low-cost spay/neuter and other surrender-prevention resources. The survey showed that 78% of shelters are unable to consistently provide these services. The impacts compound themselves in a reinforcing downward cycle. For example, if spay/neuter services cannot be offered to the community, this can lead to more "unwanted" animals surrendered to the shelter.
"The lack of veterinarians in California is having a devastating effect on our state's most vulnerable animals," said State Senator Dave Cortese. "We are seeing increases in diseases and even euthanasia services to our pets simply because we do not have the capacity to care for them. Unless we make significant changes soon to how we support our veterinarians and medical staff, more animals will continue to suffer needlessly."
The survey was conducted by the SF SPCA in partnership with the UC-Davis Koret Shelter Medicine Program, CalAnimals, University of Tennessee Pet Health Equity Program, Humane Society of Silicon Valley, and San Diego Humane Society. It was made possible through a California for All Animals grant from the UC-Davis Koret Shelter Medicine Program.
Nearly 80% of respondents said that an increased length of stay in animal shelters results from inadequate access to vet care. This raises the costs to house animals, strongly contributes to behavioral deterioration, and increases the number of animals that the shelter staff need to care for at any given time.
"These staffing shortages are not only endangering the health and well-being of our animals, they are having increasingly detrimental effects on workers throughout the industry," said Kate Hurley, Program Director of the UC Davis Koret Shelter Medicine Program. "Staff are overwhelmed because of the sheer volume of animals in their care, and that anxiety is heightened by the inability to provide the level of veterinary care staff know the animals deserve. Shelters are in desperate need of assistance to resolve the situation both in the immediate and long-term. This industry is in a time of crisis right now."
Homeless animals need your support. Consider reaching out to your local and state representatives to encourage them to take action on this matter. You can also help by adopting, volunteering, and supporting your local animal shelter.
The SF SPCA, advocates, and fellow shelters are working to partner with oversight agencies for solutions.
The full survey results can be found at sfspca.org/survey